Products
Greenhouse films
Sector Agricultural
Description
We offer a wide offer of films for greenhouses covering:
• Agroclima
• Agroclima ADAPT
• Thermo MAX

Agroclima® is a co-extruded film developed for agriculture, with particular application in greenhouses, made with high quality raw materials, it is very resistant to ageing and exposure to the sun. Agroclima® film has UV stabiliser additives which guarantee a duration of up to 4 years, depending on the geographical location. The vast portfolio of Agroclima® products includes film with anti-drip, anti-pest features, among others.
Features:
Agroclima® is formulated with a set of additives that provide thermoregulation in the growing area covered by the film, guaranteeing the plants' safety from the sudden temperature changes that typically occur at night, thus maximising productivity.
• UV resistance
• Chemical tolerance (sulphur)
• Chemical tolerance (chlorine)
• Anti-Drip (Optional)
• Anti-Pest (Optional)

Agroclima ADAPT
Agroclima ADAPT® is a new generation of thermal films for greenhouses coverage with high UV protection and high tolerance to chemical attack. Agroclima ADAPT® is coextruded with multilayer technology which gives greater resistance to aging caused by exposure to sunligh. Agroclima ADAPT® has a special formulation that ensures maximum chemical tolerance to sulfur of 5000 ppm up to 3 years of use and can reach 4 years of use, and in this case with a tolerance of up to 4000 ppm.
Agroclima ADAPT® can simultaneously improve productivity of your crops and optimize costs.
• 3-year 5000PPM / 4-years 4000 PPM
• Excellent mechanical properties
• High UV resistance
• High thermicity
ADAPT technology vs Standard
Tolerance to sulfur up to 5000 PPM. Same product, both solutions.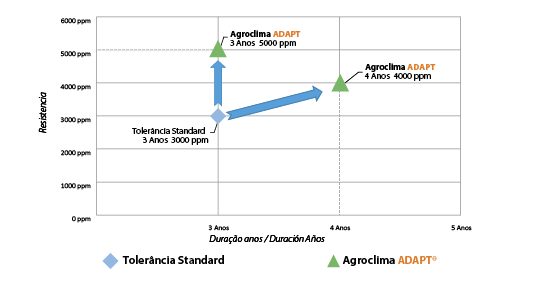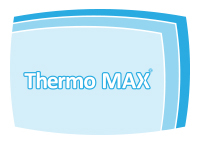 Thermo MAX Special film double camera with high transparency.
The objective of the film Thermo MAX is to optimize the thermal effect of the coverage, softening the temperature changes in the area of cultivation, without prejudicing the quality and quantity of light. This film has a high transmission of light that improves the ph otosynthesis of the plants.
The correct use of this film contributes to the homogeneity of cultures and promotes the quality and quantity of its fruits.
This product is manufactured in two versions:
Thermo MAX and Thermo MAX Anti-fog.